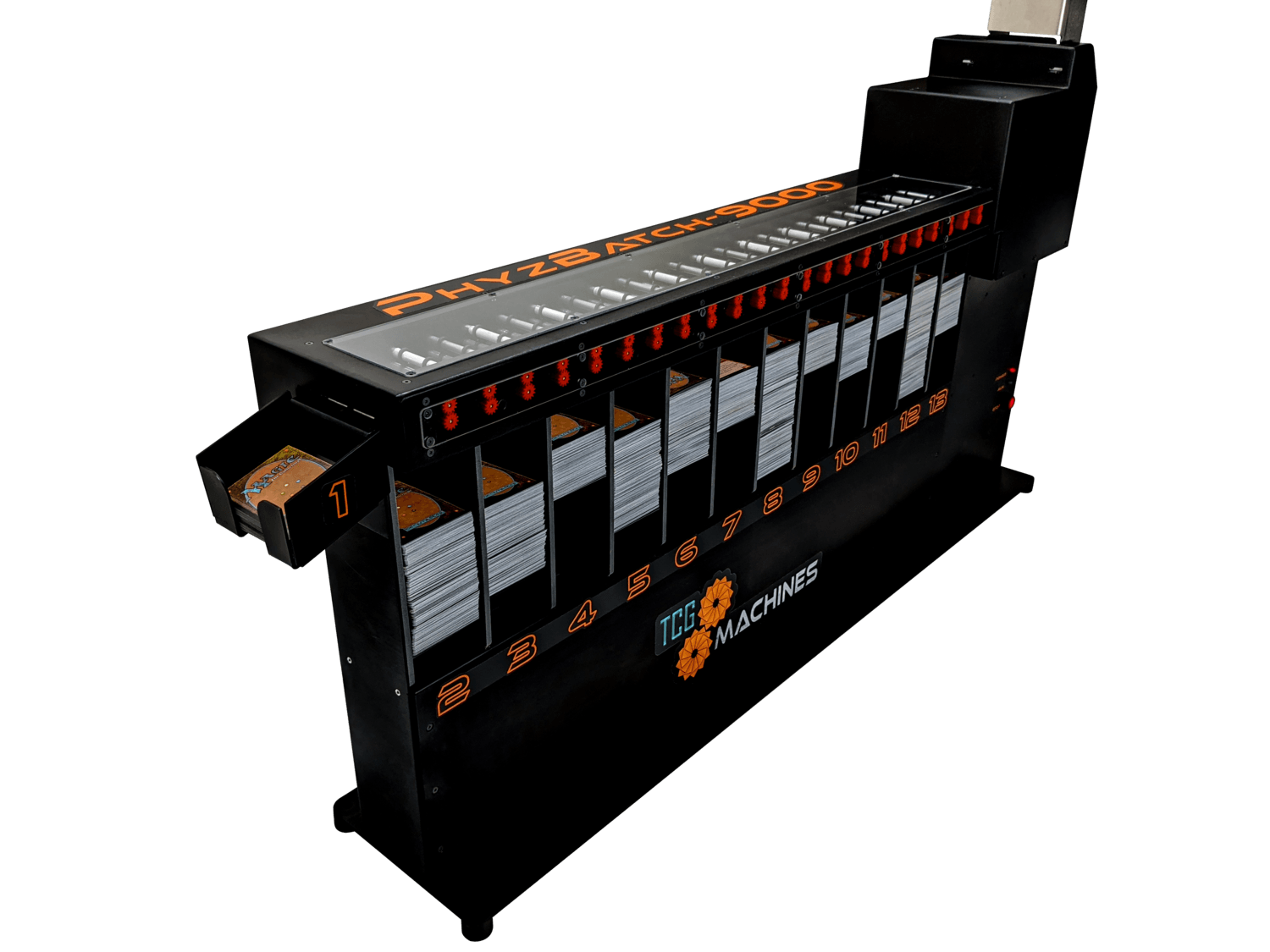 Appearance of the production PhyzBatch-9000 will differ slightly from those shown in the photographs.
PhyzBatch-9000 Pre-Order
TCG Machines' PhyzBatch-9000 recognizes and categorizes cards by nearly any metric, including card condition, type, and foil determination.
When can I get one?
We are now taking pre-orders delivering in Q3 2023.
*Shipping limited to US and Canada only at this time.
Physical
Machine Weight
34 kg (75 lbs.)
Machine Profile
62 cm (24.5 inch) Height x 107 cm (45 inch) Width x 21 cm (8 inch) Depth
Hopper Capacity
1,750 Cards with Extension, 500 Cards without Extension
Bin Capacity
6,120 Total Card Capacity (120 Cards for Bin 1 and 500 Cards for Bins 2 through 13)
Electrical
Plugins Required
One Standard Grounded (Three-prong) 120 VAC Wall Outlet
Power Consumption (Max)
113 W
Card Recognition Accuracy
*Note: these statistics do not account for misattribution of set or card variants, only that the card name is correctly determined. We are constantly working to improve upon this.
Identification
98% (on average 2 cards out of 100 will end up in the "Unidentified Bin")
Fidelity
99% (on average one card out of 1,000 may be misidentified)
Performance
Operating Noise Level
50 dB (as Measured 3 ft [1m] from Machine)
Maximum Sort Rate
100 Cards/Minute without Foil Detection, 75 Cards/Minute with Foil Detection
Average Sort Rate
60 - 80 Cards/Minute*
*range depends on the types and quality of cards being sorted