Our Story
TCG Machines started as an idle comment made by an ex-roommate. Company founder, Graeme Gordon, had just completed an exhaustive multi-day sort of his Magic cards, and his good buddy (we'll call him Schmundy) casually remarked, "Why not design a machine to do that?" Instead of having a laugh and moving on, Graeme took this request seriously and began researching whether there was a need for such a machine. It turned out there was.
Graeme, a professional mechanical engineer, and Schmundy, a professional electrical engineer, then began producing a series of proof-of-concept prototypes. As the project looked more and more promising, Graeme founded TCG Machines and offered to partner with his friend on the venture. Foolishly, his buddy decided to take a job at some company called "Google" because it could "actually pay him money" – biggest mistake of your life, Schmundy!
Now composed of an all-star team of engineers and software developers, TCG Machines stands firmly atop a growing mountain of experience: tens of thousands of hours of product development, years of field testing, millions of cards sorted, and many happy shop owners and staff finally in control of their card business. Looking ahead, we will continue working tirelessly with local games stores to ensure our machines and software are providing them with the means they need to succeed.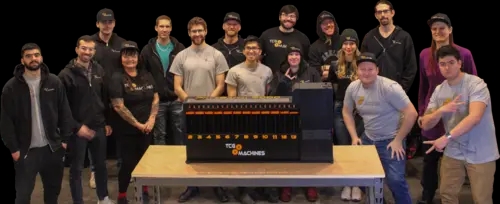 Our Mission
We will provide relief and support to local game stores by supplying tools to increase the speed and efficiency with which they can manage their card inventories. Our technology will eliminate the headaches associated with buying and selling trading cards and allow LGS staff to focus on what they do best: serving their local community.
Our Vision
Running a successful LGS is difficult and watching as establishments – both community staples and new ventures – permanently close their doors is a gut-wrenching experience for their patrons. We would like to reverse this trend and work alongside LGS owners and staff worldwide to help their businesses thrive. We see a future in which card players and collectors always have a local game store open to them, and the tabletop trading card community remains strong.